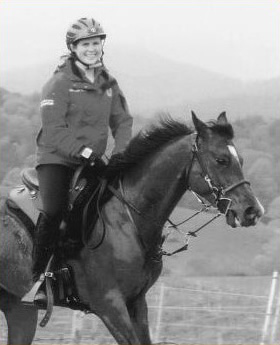 | | | |
| --- | --- | --- |
| Name: | | Savanah Wilson |
| Year: | | 2015 |
| Category: | | Athlete |
| Sport: | | Equine Endurance Racing |
Early on in her career Savanah was eligible to compete at Worlds as a young rider and also the Pan American Games and was quickly recognized as a leading Canadian Young rider in the endurance discipline.She was recognized as the Ontario Competitive Trial Riding Association's Rookie of the Year in 2013 and ranked among Endurance Canada's Riders under 21 in 2012, 2013, and 2015.
As one of the leading Canadian Young Riders she places consistently in the top ten in International Equestrian sanctioned events in North America. Savanah has partnered with several very loyal horses that have kept her at the top of her sport and helped develop her into a top Equestrian Endurance rider.
Savanah attended Holy Cross School, St. Michael's High School, and the University of Ottawa. She played school volleyball and also is a long distance runner. As an elite athlete she is committed to giving back and volunteers as a crew member for the Canadian Young Riders Team and continues to help at competitions for many horse and rider teams.
Savanah is described as optimistic, enthusiastic and a motivated individual which allows her to consistently succeed in the sport of Equine Endurance Racing.