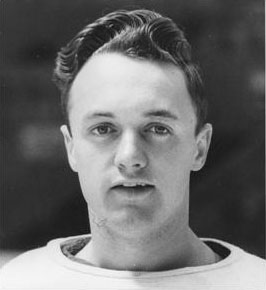 | | |
| --- | --- |
| Name: | Lowell (Odie) Craig |
| Year: | 2010 |
| Category: | Athlete |
| Sport: | Hockey |
Born in Smiths Falls in 1927, Lowell "Odie" Craig was raised in the Merrickville/Burritt's Rapids area.  Odie began his hockey career at a very young age – his love for the game fostered by his father, "Pop".As a teen, he was picked up by the Smiths Falls Rideau Hockey Club and from there went on to play as one of the first out-of-town "imports" with the famed Inkerman Rockets. He later played overseas with the RAF Ottawa All-Stars in Wembley, England and availed himself well in a tryout for the New York Rangers. As Odie matured, he moved on to play with two very successful senior hockey clubs – the Kemptville Royals and the Brockville Magedomas.
Odie married in 1950 and settled in the Kemptville area.  He became very involved in the local sports community and together with a handful of others established youth hockey in the area. Lowell served as President of the Kemptville District Minor Hockey Association.  He coached many minor ball and hockey teams over the years – and experienced one of his greatest joys watching his son and "his boys" enjoy a game he truly loved in the community which was his home until his death in 2000.