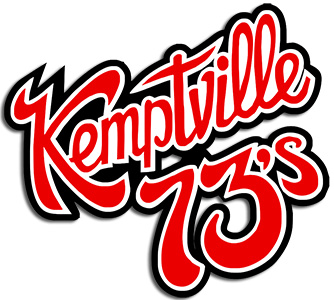 | | | |
| --- | --- | --- |
| Name: | | Kemptville 73's Original Ownership Group 1972-1973 |
| Year: | | 2013 |
| Category: | | Builder |
| Sport: | | Hockey |
At the end of the 1972-73 hockey season, the continued existence of the Kemptville Comets hockey club was in jeopardy. The owner at the time, citing financial issues with the club, was ready to fold the team after playing in the Junior B league for only 4 seasons.Ken Seymour, who was Mayor at the time, and Town Councillor John 'Doc' Henry, couldn't let the team fade into history. The two men contacted some of their business associates and good friends and formed together an ownership group who would make an offer to purchase the team from the current owner. Their offer was accepted and they renamed the franchise, the Kemptville 73's.
Many players and staff have been associated with the 73's logo, with familiar names like Blondin, McFadden, Patterson, Hutton, Murray and DeHaan to name a few. Forty years later, the franchise it still going strong, and in 2007 the club moved up a level and to play in the Central Canada Junior A Hockey league, with former NHL goaltender Ron Tugnutt as owner.
The original ownership 'group of ten' consists of:
Bruce Cathcart
Forrest Christie
Keith Forbes
John 'Doc' Henry
Wayne Pratt
Ken Seymour
Gerald Tallman
Alf Taylor
Don Valcour
Ted Warren