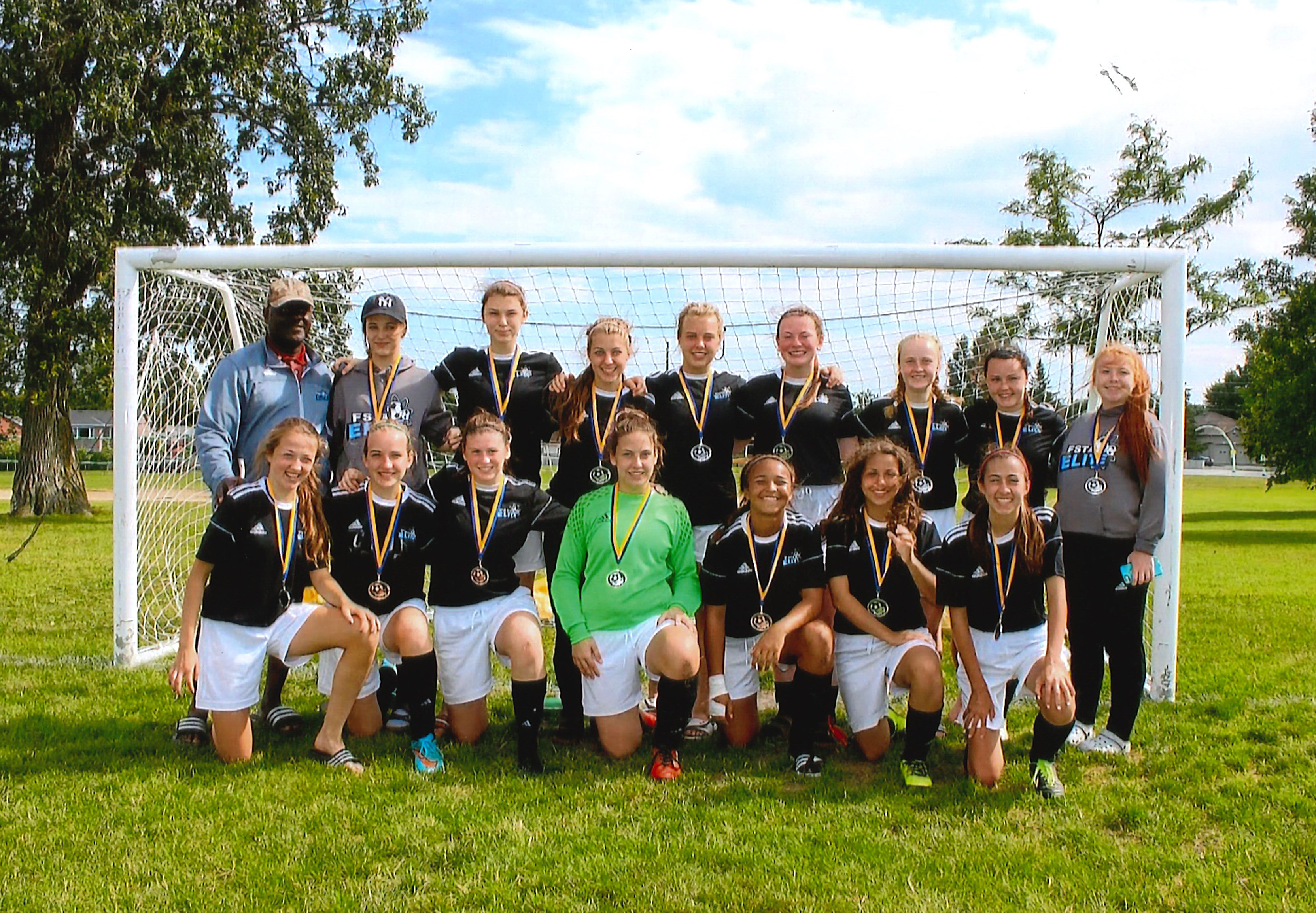 | | | |
| --- | --- | --- |
| Name: | | 2017 FSTA U16 Elite Girls Soccer Team |
| Year: | | 2017 |
| Category: | | Team |
| Sport: | | Soccer |
The Kemptville Kougars soccer team had a perfect season in 2017 and also won the Eastern Ontario Regional Soccer league championship three years in a row.
The team competed as the Kemptville Kougars until 2016. In 2017, the team competed as FSTA (Frank's Soccer Training Academy) Elite. Some players on the team changed from year-to-year. However, during each of the 2014, 2015 and 2017 seasons, the team won the league championship with the same coach, same manager, and eleven players that were on all three teams.
During these seasons, the team also won several tournaments, which were in addition to league play. The team consistently demonstrated excellence in sports, through superior skill, fitness and speed. They exhibited the highest levels of sportsmanship and were excellent ambassadors for Kemptville.
Prior to 2014, the team played in Tier 3 (T3), which is the lowest level of competition. Because of a winning record, the team was promoted to a higher level of competition in Tier 2 (T2) for the 2014 season, and won the league championship. The following year, they were promoted to Tier 1 (T1), the highest level of competition within the ERSL, and won two more league championships. In soccer, there are no playoffs. Placing in the league determines the championship.
The wins were not without challenges. During the 2014 season, it appeared that the team would likely finish the year with the same record as one other team. The only way to win the lead outright was to outscore the other team over the rest of the schedule. They rose to the challenge and while maintaining playing time for all the players, outscored the second-place team by 15 goals.
In 2015, the team competed in a tournament in Newmarket against teams from the Toronto area. The prevailing expectation was that soccer teams from Eastern Ontario can't win against Toronto teams. Yet again, the team
rose to the challenge and made it to the championship game. They lost a very close game to Oshawa, a community that draws competitive players from a much, much larger population than Kemptville.
Over the three championship seasons, the team played forty-one league games and lost only two games. During that period, they also won three tournaments and came second in four tournaments.
The team and their professionalism and dedication was an excellent ambassador for Kemptville. Often, the team would be noticed for its high caliber of play and would be asked, "Where are you from?". They would then proudly reply, "We're from Kemptville."
Team Roster:
Charis Boland
Jay-Lynn Burnie
Madison Campbell
Kaitlyn Dawson
Alyssa Duncan
Makayla Emond
Mollie Galbraith
Sydney Green
Bailey Hiscock
Emma Kirkpatrick
Madison Meisenheimer
Vesta Mourato
Ruby O'Shea
Cassandra Poapst
Katie Taugher
Calyssa Tkachuk
Elgin TooleCoaches:
Kodi Jones
Frank OnasanyaManager:
Cindy Dawson